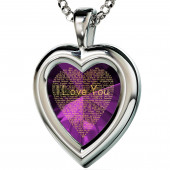 Romantic necklace, "I love you" heart pendant, Romantic necklace, Anniversary gift, 925 sterling silver & Cubic Zirconia, Valentine gift.
If you have an account Log in to your account in order to view your current wishlists.
(If you don't have an account you can create one.)
You currently have no wish lists.
Please create one in the form below.
Create New Wishlist